Defra Approved Stoves: Your Eco-Friendly Heat Heroes!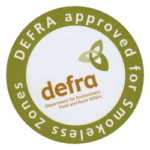 Experience the warmth of Defra approved stoves, the champions of eco-friendly heating! These stoves are more than just fireplaces; they are the eco-conscious choice for your home, combining style, efficiency, and sustainability in one.
Low Emissions, High Efficiency:
Stoves that not only warm your heart but also your home. These low emissions stoves maximize heat output while minimizing fuel consumption, giving you cost-effective and efficient warmth.
Multifuel Stoves with Defra Approval:
Enjoy the versatility of 5kW, 8kW and higher multi-fuel stoves. Defra multi-fuel approval means you can burn various fuels sustainably, providing you with the flexibility you might prefer.
Heat Up without Smokeless Zone Worries:
Living in a smokeless zone? No problem! Defra approved stoves comply with regulations, if you're not sure whether you currently live in a smoke-free zone we would suggest checking with your local government website we can be done for free online.
Defra Exempt Stoves:
Exemption doesn't mean compromise. Our range of Defra exempt stoves offer the highest quality build materials so you can be assured you're log burner will stand the test of time.
Defra Approved Stove Retailers in the UK
Buy with confidence from Yorkshire Stoves. We've been supplying DEFRA approved stoves nationwide and using our in-house team of certified installers to fit these wood & multi-fuel log burners around the Yorkshire area for over 20 years! If you need a professional installation service, make sure to head on over to our log burner installers page and see how we can help.
Not sure if you live in a smoke-free zone or need a DEFRA approved stove?
No problem! our helpful staff are on hand to help. Just drop us an email via our contact us form or give us a call on 0800 756 6625 and we'd be more than happy to help with any questions you might have.